***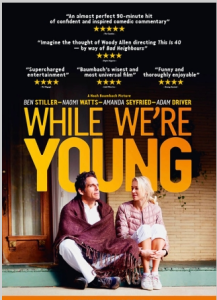 While We're Young -nf
Noah Baumbach is a prolific filmmaker who is best known for the award winning movie The Squid and the Whale (2005) that he wrote and directed. It was probably semi-autobiographical as it told the story of two boys in Brooklyn dealing with the divorce of their parents.  
This current film 10 years later which was released in March of 2015 is about a middle-aged couple in their 40s, Josh and Cornelia (Ben Stiller and Naomi Watts) who encounter a younger couple Jamie and Darby (Adam Driver and Amanda Seyfried) who are in their mid 20s and seem to be "living in the moment" and enjoying life the way the older couple believe they did when they were that age. This leads Josh and Cornelia to do a great deal of self -reflection. Stiller's character is a documentary filmmaker who hasn't achieved the success that he hoped for and seemed to be stuck in the rut in many ways including being obsessively involved in one film for the past 10 years (An interesting sidebar is that the subject of this Josh's film is a historian who is played by Peter Yarrow of the 1960s folk singer group Peter, Paul and Mary). In fact, Josh and Cornelia's marriage also seem stuck as they ambivalently accept the plight of their not having children while all their friends are reproducing. Josh's new friend seems to value him as a mentor, which is initially quite flattering to him. This new couple, Jamie and Darby, seem to be enjoying life and doing all the things that the couple in their 40s hasn't been able to do. The storyline by Baumbach allows us to understand and empathize with the struggle of Josh and Cornelia. Not surprising however, things are all not what they seem to be as this film ultimately has an interesting reveal.
Each of the veteran actors mentioned above are excellent including Charles Grodin who plays Cornelia's father who is a very successful veteran documentary filmmaker who while depicting his character's elderly wisdom still conveys the actor's comedic self.
Whenever there is a film about the inside working of some aspects of the moviemaking business (documentary films included), we expect that the filmmakers are giving us the inside scoop from their real life experience. That may very well be the case here but it is also a penetrating look of the struggle of many people trying to go through the process of maturing as adults. (2015)
Category: 3 Stars, Comedy, Drama | Tags: 2015, Adam Driver, Amanda Seyfried, Ben Stiller, Charles Grodin, documentary films, living in the moment, mid life, Naomi Watts, Noah Baumbach, Peter Yarrow, While We're Young Comment »