****
Yesterday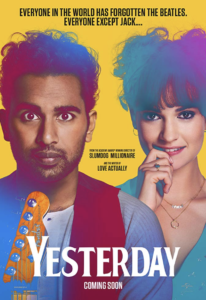 Cross-country air flight often allows us to come across a film that we may not usually choose to see in a local movie theater. Yesterday was such a film, which had a very unique premise and an excellent execution. It was directed by Daniel Boyle and written by Jack Barth and Richard Curtis.
A musician living in England (Himesh Patel) decides that he has had it with his music career and is ready to give up and quit trying to be a successful singer. He is driving away from his latest and what he believes will be his last gig when he is involved in a serious auto accident. He is knocked unconscious and loses two of his front teeth. As he recovers from his injury, new dental work and is ready to try to live a normal life, not as a musician, he comes to a very amazing realization. Everything in the world is as it was before his accident, except nobody has ever heard of the Beatles or any of their songs. If he makes a reference to "Let It Be", nobody knows the musical reference to the great Beatles' classic hit. In fact, nobody has ever heard of the Beatles. "Google" thinks that the Beatles are only insects
Our musician begins to write some "Beatles" songs which he remembers and reconstructs. We watch him gradually develop into an extremely popular performer who is writing new songs (classic Beatle hits) all the time and becomes known as the "Greatest Songwriter of All Time." He performs in gigantic venues and receives great acclaim. There is a romantic subplot with his girlfriend (Lily James) and we also see a statement being made about the music industry through his new female agent who greedily seeks to reap the rewards of his tremendous popularity.
The storyline builds to an interesting climax and in the end, we have had an opportunity to enjoy the great music of the Beatles but also have seen a wonderful satire. (2019)
Please leave your comments below:
Category: 4 Stars, Drama, Musical | Tags: Daniel Boyle, Himesh Patel, Jack Barth, Let It Be, Lily James, Richard Curtis, songwriting, The Beatles, Yesterday Comment »