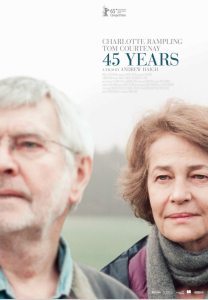 **
45 Years-sp
Early in this British film, the husband (Tom Courtenay) of this couple that is about to celebrate their 45th wedding anniversary in a few days, learned that the body of his previous girlfriend many years ago who died by falling into crevice of icy water during a mountain climbing trip, has just been discovered and was fully preserved. His now wife of nearly 45 years (Charlotte Rampling) then finds out that her husband recently secretly visited a travel agency to inquire about going to Switzerland where the discovery of his old girlfriend was made. She is already very hurt about this set of unusual circumstances. She appears to be questioning the many years of the seemingly happy but childless marriage (spoiler alert, the old girlfriend was apparently pregnant).
Andrew Haigh, the young (43-year-old) director/writer in a post-film discussion at our screening revealed his insight and seemingly his major point in writing the film was now that the wife knows this ancient story of her husband's early love, she realizes that if certain events hadn't happened, her whole life could have been different. "Duh" – isn't that so true in everyone's life? If MB hadn't accepted the blind date with his 18-year-old now wife of many years (SB), his entire life – children, grandchildren and so many choices in life would not have happened. This movie seems to be built upon this premise. which of course is true for everyone's life. What the movie demonstrates is under the surface anger and hurt feelings that Charlotte Rampling very well conveys with her facial expressions and demeanor.
Moviegoers today have a right to expect a richer and more complicated story then that which is presented in this film. Now, if the husband had murdered his wife all those years ago (which we both thought for a second might be the case before it became obvious that that wasn't the situation) then we might have been drawn into the storyline.
Despite the nice photography and excellent acting, we were glad that the running time was only 95 minutes rather than a longer 2-hour film. Still, the film dragged and it felt as though there was "no there there."(2015)
Category: 2 Stars, Drama | Tags: 2015, 45 Years, Andrew Haigh, anger, Charlotte Rampling, love, marriage, Tom Courtenay Comment »