***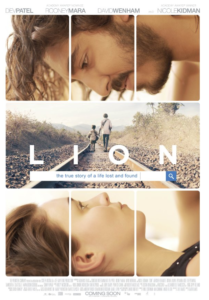 Lion-sp
This is a beautiful story based on real life that will deeply move many people and it would not surprise us if it is an award contender. Therefore we don't want to discourage potential viewers, but we thought it could have been done much better and shorter.
It is the story of a young Indian boy living in one of many poverty-stricken areas of India who joins his older brother on a late night adventure as they set out to try to make a few rupeess doing child labor tasks. He gets lost and separated from his brother ultimately falling asleep on a train ending up a couple of thousand miles away from his mother. The plight of Saroo is poignant enough by itself but the appeal of this young child played by a young Indian boy Sunny Pawar, who was chosen for the part over thousands of children, emotionally draws in the viewer.
Saroo is ultimately adopted by a loving Australian couple (Nicole Kidman and David Wenham) which is the equivalent of winning the lottery. Fast forward about 25 years into the future and this now young man (Dev Patel of Slumdog Millionaire fame) is having flashbacks of his childhood which are preventing him from moving forward with his life. The problem with the movie is that there was no fast forward but rather many long drawn-out scenes often showing countryside, trains winding through mountains, maps with pins in it and attempted reconstruction by the now young man as he tries to figure out where he left his mother and brother. There are endless views of Google Earth as Saroo now tries to reconcile his childhood memories and find the place where he came from. We meet a second child adopted by the Australian parents who we really don't get to know very much about nor do we understand Saroo's relationship with his girlfriend Lucy (Rooney Mara), who seems lovely but we get no insight into what makes them tick as a couple since Saroo is now preoccupied with finding his birth mother and of course doesn't want to hurt his loving parents who raised him.
We have written about the search for biological parents among adopted children and variations of this meaningful psychological theme have been played out in many movies.(click here to read article) Perhaps we can identify with the story because we try to imagine how we might feel if we were in this situation. This movie based on a book by the real Saroo which was put into a screenplay by Luke Davies and directed by Garth Davis. At the conclusion of this 120-minute movie, as the titles were being shown, there was an actual brief film clip of the real Saroo introducing his adopted mother to his biological mother which to us was the most moving moment of the film. (2016)
Category: 3 Stars, Drama | Tags: 2016, David Wenham, Dev Patel, Garth Davis, India, Lion, lost child, Luke Davies, Nicole Kidman, Rooney Mara, search for parents, Sunny Pawar Comment »