We also reviewed this film a few years ago when it came out. We suggest that you also look at that review ( What Happened, Miss Simone? )which also has a link to one her outstanding performances.
****
What Happened, Miss Simone? (Netflix)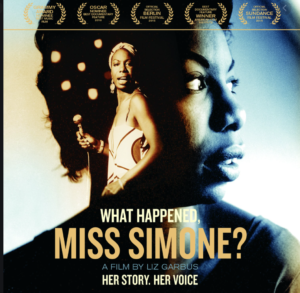 This 2015 documentary film was directed by Liz Garbus and is nominated for best documentary film at the 88th Academy Awards. Nina Simone is a little girl who appeared to be destined to become a child prodigy classical pianist. Her natural talents as a pianist as well as a singer diverted her into performing as a jazz artist. Being a young black woman, she used her musical talent to be an important voice in the Civil Rights Movement in the late 1960s. She would often be singing in a musical manner what the black leaders were saying in so many ways, especially as she came forth and performed her classic song, Mississippi Goddamn! Ms. Simone's personal life was complicated as the man whom she married and became her manager also physically abused her.
The editing of this film was magnificent as there were clips of her performing and talking as well as segments of observation by people who knew her including her husband and most important, her daughter. These were all blended together with wonderful clips of performances by this great artist.
Sadly, it turns out that Ms. Simone appeared to have had an underlying depression, which dominated her later years. She died at the age of 70, but her music will never be forgotten.
Category: 4 Stars, Documentary, Musical | Tags: 2015, Academy Awards, child prodigy, Civil Rights Movement, Liz Garbus, Mississippi Goddamn, Nina Simone Comment »